Maryland is standing on the threshold of a new era in how we educate our children. ACLU of Maryland is fighting for a
full and equitable funding formula
that will deliver the level of education all students need to get an excellent and free public education guaranteed by the State Constitution.
Since Black and Latinx students make up more than half of Maryland's public school enrollment—
and Maryland's future rests on how well it serves these students—
the state's "Kirwan" Commission must center race equity as the group finalizes their recommendations, which are expected by the end of the year. 
Last week, The Education Trust released a new set of
analyses
that examine racial inequities in academic achievement, funding, access to high-quality teachers and leaders, and more. Is our current education system in Maryland equitable? The data paint a clear picture: NO.
Black and Latinx students are not being adequately and equitably served by Maryland's education system.
The challenge is structural inequity.
When it comes to funding,
most districts receive less than what the state says they should
.
But the three school districts with the biggest funding gaps – Prince George's and Caroline counties, and Baltimore City – serve a quarter of the state's students, nearly half of the state's entire population of students of color, and have been shortchanged by $861 million annually.
Black and Latinx students get the least of the opportunities and resources that matter most from before kindergarten and until they graduate. As the percentage of students of color increase, the gap between the district's needed funding and its actual funding tends to get worse.
Source: The Education Trust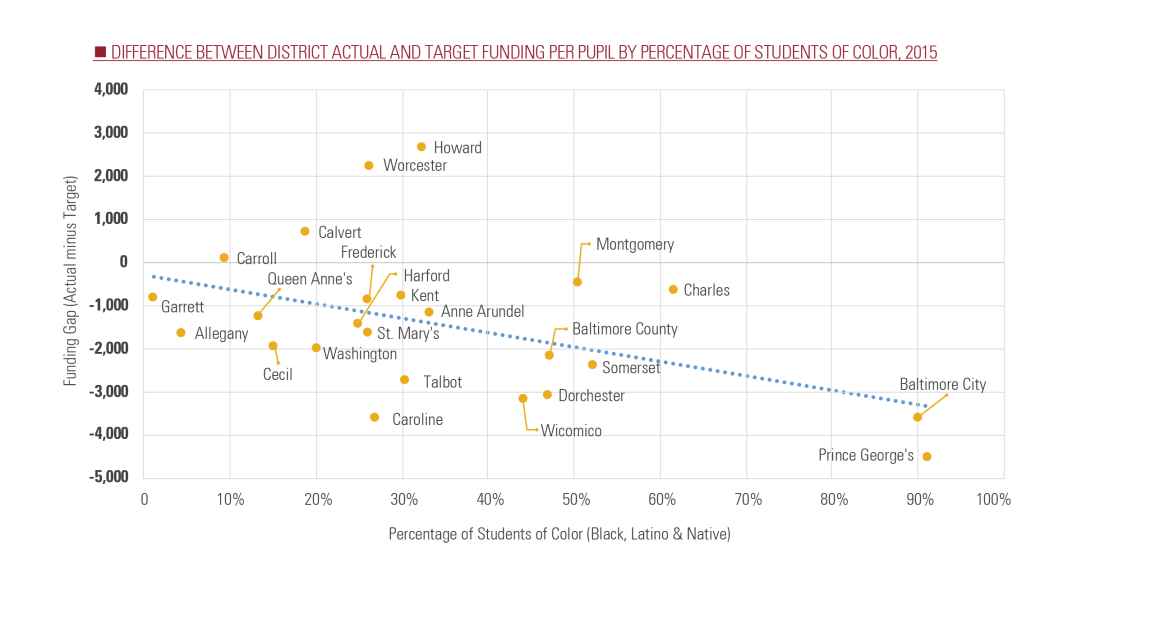 Source: The Education Trust
While poverty is a critical proxy for meeting the needs of underserved children, it should not be the sole factor for targeting resources.
Racial inequities in opportunity and achievement exist, regardless of income.
In fact, in some cases,
opportunity and achievement gaps
are largest between
higher-income
White students and
higher-income
Black and Latinx students. In July, Dr. Ivory Toldson, a national expert on educating students of color, 
addressed the "Kirwan" Commission
about these issues and provided important guidance on what Black students need to succeed. As a result, the Commission brought him on as a consultant to review all materials before they release their final recommendations. 
Here are some recommendations the "Kirwan" Commission could include to increase equity for African American/Black and Latinx children:
Ensuring that all school districts, but especially those serving high percentages of students of color, get their full amount of their funding target
Recruiting and retaining culturally representative preK-12 educators
Providing explicit training on racial, linguistic, and culturally responsive pedagogy and practice, and social justice training for teachers and administrators
Identifying and implementing culturally specific pedagogy, curriculum investments, and assessments at all grade levels
Collaborating with culturally specific community-based organizations to provide wraparound services, youth mentoring, and other supports
Providing culturally responsive counseling and career services to increase graduation rates
Increasing the amount of culturally specific information, supports, and services available for newly-arrived immigrants, and increase partnerships with community-based programs to promote and encourage parent engagement
As Kimberly Humphrey, Esq., ACLU of Maryland's Legislative Counsel for Education, noted in the
letter
, "This is what equity looks like – providing students with what they need and moving away from a one-size-fits-all approach that has failed in the past." The Education Trust data make a clear and compelling case that racial equity must be a centerpiece of our deliberations about policy changes to Maryland's educational system. 
We believe by incorporating the recommendations above, combined with those from The Education Trust, Dr. Toldson, and other groups that are working extensively on race equity issues in education across Maryland (such as fellow members of the Maryland Alliance for Racial Equity in Education), the "Kirwan" Commission can eliminate these racial inequities.