With police spy planes, everywhere Baltimore goes, the government would always know.
Spy planes carry sophisticated cameras developed for the military, mounted on airplanes, that can see the entire city, and that track the movement of every person or vehicle moving outside. Because the video imagery is stored, it is a virtual time machine, allowing police to go to any time and place and track everyone who came and went from or to that place. They will use the video to identify people, by tracking where they come from and go to, and by linking movement tracks to images from ground-based surveillance cameras and data from license plate readers.
That's why a lawsuit was filed against the Baltimore Police Department by Leaders of a Beautiful Struggle, grassroots think tank that advances the public policy interests of Black people in Baltimore; Erricka Bridgeford, co-founder of the Baltimore Ceasefire 365 project; and Kevin James, a community organizer and hip-hop musician – with the support of the ACLU of Maryland and the national ACLU.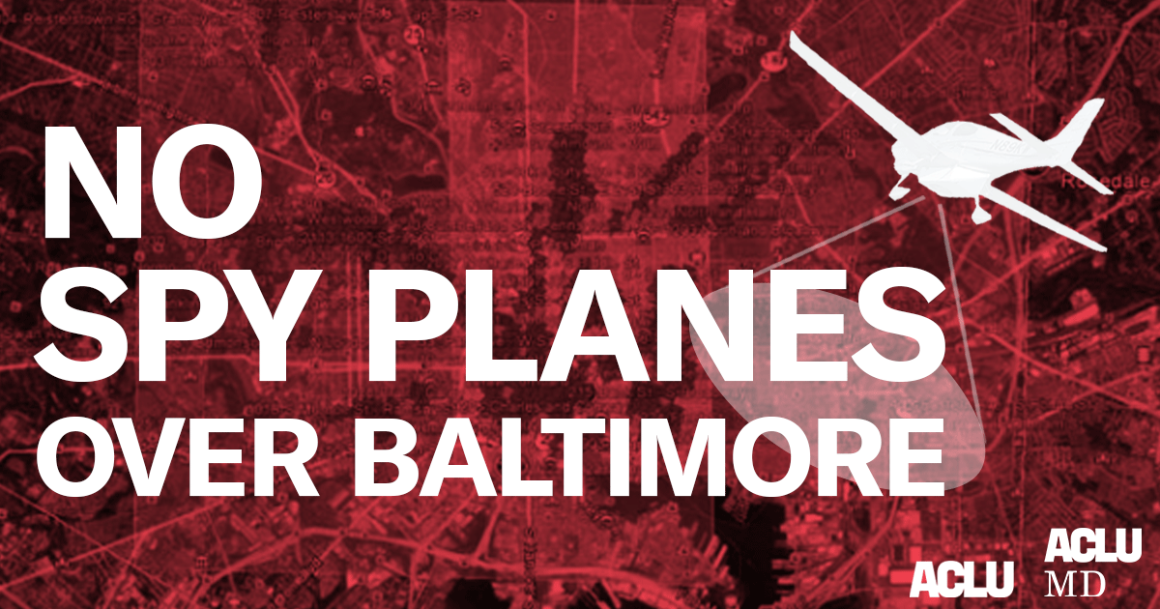 The police spy plane program is equivalent to having a police officer follow every Baltimore City resident when they go outside, just in case they commit a crime. If this happened with an actual police officer and not technology, the First and Fourth Amendment violations would be glaring. Using a policy spy plane to do this is no different.
Baltimore is the last place a police spy plane program should be used. Why?
Baltimore Police have a terrible history of racial bias and lack of accountability for abuses, including secretly using this and similar technology for other purposes such as surveilling Black Lives Matter protests.
 
The unprecedented spy plane system would violate our rights by chilling our rights to free speech and assembly. A spy plane would link to, and supercharge the city's ground-based surveillance cameras, which are already disproportionately located in Baltimore's Black neighborhoods.
 
Baltimore should not allow an out-of-state businessman to profit from selling spy plane data he collects about them to the police and other companies. For a private company, this about making money off of Baltimore's pain.
If the Baltimore Police Department moves forward with this mass surveillance program, Baltimore City is just the beginning. What happens here will determine what happens in the rest of the country. The private company behind these spy planes already has its sights set on other cities across the country. We foresee this technology being deployed in other cities that have a majority of Black residents, too, and where activists have been rising up against abuse and killings by police.
Let's stop the Baltimore Police spy plane program.
---
VIDEOS
Real News Network: Unconstitutional Power Grab? Baltimore Police Sued Over Spy Plane (April 14, 2020)

No Spy Planes Over Baltimore City - Press Conference (April 9, 2020)

ACLU of Maryland Opposes Spy Planes in Baltimore (March 24, 2020)
---
LEGAL CASE
Leaders of a Beautiful Struggle v. Baltimore City Police Department (Filed on April 9, 2020)
Learn More
---
PRESS RELEASES
ACLU, Baltimore Leaders Comment on Federal Court Decision on Pilot Aerial Surveillance Case in Baltimore (April 24, 2020)
READ
Baltimore Leaders, ACLU File Suit Challenging Pilot Aerial Surveillance Program in Baltimore (April 9, 2020)
Read
---
LETTER
Protest Letter from David Rocah, senior staff attorney at ACLU of Maryland, to Board of Estimates (March 24, 2020)
Read
---
FROM THE NATIONAL ACLU
PRESS RELEASE: ACLU Challenges Pilot Aerial Surveillance Program in Baltimore (April 9, 2020)
READ
BLOG: ACLU Lawsuit Over Baltimore Spy Planes Sets Up Historic Surveillance Battle (April 9, 2020)
Read
BLOG: Baltimore Aerial Surveillance Program Retained Data Despite 45-Day Privacy Policy Limit (October 25, 2016)
READ
BLOG: Baltimore Police Secretly Running Aerial Mass-Surveillance Eye in the Sky (August 24, 2016)
READ
BLOG: What's Spooky About the FBI's Fleet of Spy Planes? (June 2, 2015)
READ
BLOG: Mysterious Planes Over Baltimore Spark Surveillance Suspicions (May 6,2015)
READ