Voting Rights and Elections
The right to vote, and to have one's vote accurately and fairly counted, is a fundamental right of all Americans. At the ACLU of Maryland, we believe the democratic process is invigorated through policies that encourage voter participation. Thus, we work to encourage election practices and voting technology that strengthen minority voting, to ensure that all voters have adequate opportunities for voter registration, to engage non-English speakers, and to protect and restore the voting rights of those with criminal convictions.
---
The History of Voting Rights from 1965 to Now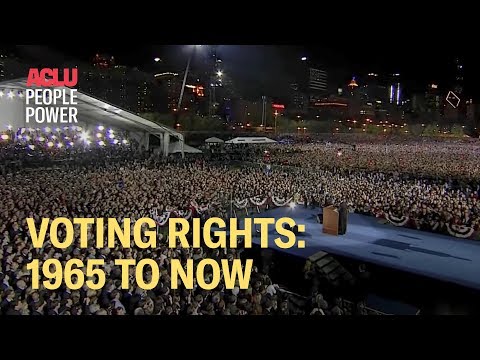 %3Ciframe%20allow%3D%22autoplay%3B%20encrypted-media%22%20allowfullscreen%3D%22%22%20frameborder%3D%220%22%20height%3D%22315%22%20src%3D%22https%3A%2F%2Fwww.youtube.com%2Fembed%2F71VIhicSTNg%3Fautoplay%3D1%26version%3D3%22%20width%3D%22560%22%3E%3C%2Fiframe%3E
VOTER EMPOWERMENT
1You can still register to vote during early voting
2If you can prove you live in Maryland, no one except an election judge can challenge your eligibility to vote.
October 11, 2011

August 17, 2011