The ACLU of Maryland is dedicated to fighting for the rights of immigrants throughout the state of Maryland to ensure that our immigrant community is protected from police abuse, criminalizing the mere presence of immigrants of color, denying immigrants the opportunity and right to an education, and much more. Our country's immigration laws define who our federal government allows into the United States, and guides how federal agencies enforce those laws at our national borders, ports of entry, and within the interior of the U.S. However, in order for federal immigration agencies to target the immigrant community and otherize their existence in this country, they rely on local and state agencies, primarily law enforcement agencies, to help them identify and begin the deportation process.
Local and state law enforcement agencies that cooperate with federal immigration authorities do so voluntarily, and are one of the primary drivers for immigration enforcement, despite the task of immigration enforcement being a federal responsibility. On the one hand, you have formal agreements, such as a 287(g) agreement, a formal agreement between U.S. Immigration and Customs Enforcement (commonly known as "ICE"), and a local law enforcement agency that deputizes local officers to act as federal ICE agents, and on the other hand, there are informal agreements that automatically share information about individuals arrested and booked in jail through the Secure Communities program. Most law enforcement agencies in Maryland cooperate with ICE in some form, despite the real and devastating human cost to both the individual subject to deportation proceedings, and to their families and their communities.
The ACLU of Maryland uses impact litigation and targeted advocacy in the Maryland State Legislature and in local governmental bodies to protect immigrants from victimization, who are profiled because of the color of their skin, persecuted as an "other" for merely existing in a space that is designated as "American", and denying them the respect and dignity that every human being deserves.    
---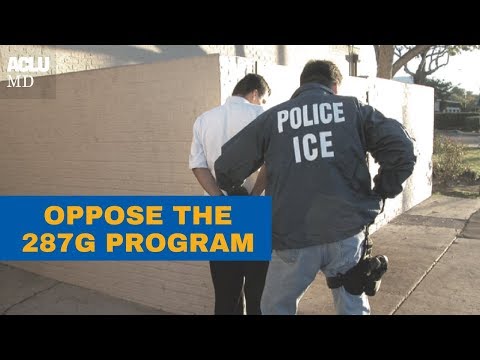 %3Ciframe%20allow%3D%22autoplay%3B%20encrypted-media%22%20allowfullscreen%3D%22%22%20frameborder%3D%220%22%20height%3D%22315%22%20src%3D%22https%3A%2F%2Fwww.youtube-nocookie.com%2Fembed%2FgE6WqZAaRbU%3Frel%3D0%26autoplay%3D1%26version%3D3%26playsinline%3D1%22%20width%3D%22560%22%3E%3C%2Fiframe%3E
February 7, 2017

November 18, 2015