There are plenty of ways for individuals, schools, community groups, and organizations to get engaged with our work to advocate for equity, adequacy, and achievement in Maryland's public schools.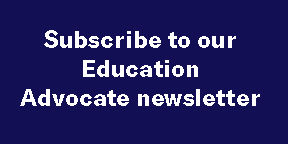 The ACLU of Maryland's Education Advocate newsletter is an advocacy tool that informs parents, teachers, school staff, and community leaders about what is happening in the world of education, with a focus on Maryland and Baltimore City. Sign up to get legislative updates, action alerts, and other critical education news. Help make your voice be heard! Check out our recent issues.
We speak at legislative hearings, work in coalition with allied organizations, give presentations at schools, organize buses to Annapolis, write letters to the editor, lift up community voices on social media, and more. If you are interested in getting engaged, sign up for our newsletter.
---