There are plenty of ways for individuals, schools, community groups, and organizations to get engaged with our work to advocate for equity, adequacy, and achievement in Maryland's public schools.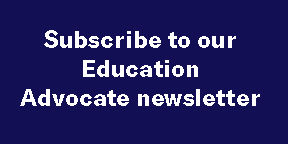 The ACLU of Maryland's Education Advocate newsletter is an advocacy tool that informs parents, teachers, school staff, and community leaders about what is happening in the world of education, with a focus on Maryland and Baltimore City. Sign up to get legislative updates, action alerts, and other critical education news. Help make your voice be heard! Check out our recent issues.
We speak at legislative hearings, work in coalition with allied organizations, give presentations at schools, organize buses to Annapolis, write letters to the editor, lift up community voices on social media, and more. If you are interested in getting engaged, sign up for our newsletter.
---
---
Past Education Advocate issues
---
June 8: Black Children are Children
April 24: A Look Back at the 2019 General Assembly
April 18: Bebe Verdery Retirement Announcement
April 1: Please Call Senators to Pass School Climate Bills
March 23: 2 WEEKS TO GO! Legislative Updates
March 18: Tell State Legislators to Fully Fund Kirwan!
March 7: Baltimore City Parents Sue State of Maryland
March 3: March for Our Schools - March 11th
February 24: Vote NO on 1373 -- Don't Arm School Police!
January 31: 2019 Education Legislative Priorities
January 22: ACLU-MD & NAACP LDF Letter to Governor Hogan
---
December 20: Schools that Baltimore City Students Deserve
November 24: Kirwan Public Hearing on November 29th
November 3: Kirwan Commission Must Prioritize Race Equity
October 13: Vote FOR Question 1
September 22: No A/C, No Heat, No Excuses
August 14: You're invited: 5 new Baltimore schools opening!
August 4: Kirwan hears from Race Equity Expert
June 25: Kirwan + Primary Day Election
May 30: Dorothy I. Height Elementary Opening Day
April 18: 2018 Legislative Session - That's a Wrap!
March 26: 2 WEEKS TO GO! Legislative Updates
March 14: It's Still Cold! Take action for school faciltiies funding! 
February 22: Legislative Priorities & BEC Solutions Summit
February 7: State Budget for Schools: Additional $$ Helps City, Others 
---
December 15: Kirwan Update & Uniting City Leaders Around School Funding
November 21: BEC Unity Event
October 30: After 4 public hearings, Kirwan Commission postpones report 
October 24: Last Kirwan Commission Public Hearing Wednesday in PG County
October 3: Fund Our Schools Now!    
August 28: Celebrating New Schools Built in Baltimore! 
August 2: What's happening with that funding study?
June 13: Baltimore City Council, Mayor Pugh Strike Deal for City Schools
April 13: 2017 Legislative Wrap-Up 
March 28: Movement Toward Fixing the Gap 
March 13: Updates on Efforts to #FixtheGap
February 27: #FixtheGap Rally Draws Thousands 
February 8: City Schools' Deficit: What You Can Do 
January 13: 2017 Legislative Priorities 
---