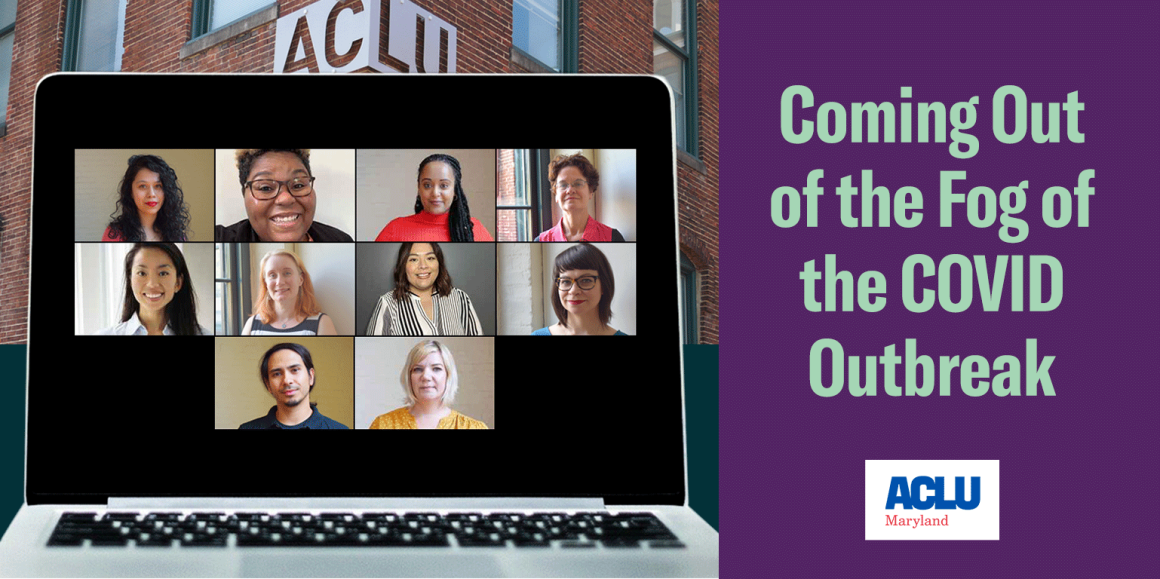 Three years after the COVID-19 outbreak began, we have had to shift the dynamics in our civil rights advocacy plan. We came face to face with a catastrophic event that shined a light on the fragility and vulnerability of human life. Now, in what seems to be the ongoing fog of the COVID pandemic, we are left with the pieces of life to pick up after the revelation.
 
One of the biggest challenges for our organization was how to organize ourselves and with our communities to continue to advocate for our rights, especially during a vulnerable time when the health and lives of so many BIPOC communities in particularly were being threatened. During the height of the pandemic, we helped protect the rights and lives of those who were incarcerated in unsanitary spaces, the rights and lives of those who ICE detained in close quarters, and Maryland voters' rights during an election season marked by the chaos of the pandemic.
 
Finding new ways to organize, assemble, protest, plan, and come together was eye opening. Our society now, hopefully, has a greater awareness for disabled people who cannot easily meet in person. At our organization, we are more conscious of creating accessible materials and spaces for those who cannot meet in person, for whatever reason, so that they can still be engaged and make an impact. Globally, we are paving the way for future trends on ways we interact with the world and community.
 
Our activism has persisted and evolved. Today, we wanted to reflect on it and take a peek at how each one of our departments has changed.
Communications Department
(Our team handles all communications and media material from the ACLU of Maryland.)
Alicia Smith, communications strategist, said: "With COVID came the loss or decrease in rallies and in-person events. As the weather got warmer and we were able to have events outside, we've been able to increase our in-person activity. I actually didn't realize how much I missed those events or how much they push the work forward until I attended one for the first time since the pandemic started."
Meredith Curtis Goode, communications director, said, "We all want meaningful connections and ways to make a difference that will actually improve our world. During the Covid-19 pandemic, we have been challenged to create new ways of connecting and advocating that actually showed how many people were already being left out, even before the lockdown. For most people, it is just not possible to attend hours-long bill hearings in Annapolis during the workday. Many Marylanders have physical disabilities that already made travel challenging. And even local bill hearings can be hard to participate in for people who have work and family obligations in the evening. Now, we have the chance to fully embrace the combination of in-person and virtual so that it's easier for any Marylander to testify in support of a bill that matters to them, to organize with others online and then meetup in person for an impactful rally, and to tune in from wherever they are to learning opportunities on issues they care about."
Nicole McCann, communications strategist, said: "Personally, COVID was a perfect storm for me to discover that I am neurodivergent. That pushed me to learn more about cognitive disability considerations and how to bake them into my communications work. ACLU of Maryland has been working to implement robust disability accessibility into our work, but I didn't even know about cognitive considerations and how deeply I was connected to them. It felt like my world opened up. Though I am a white staff member, disability justice is a racial justice issue and I am thankful we're expanding our work on this and that I'm a part of it."
Development Department
(Our department fosters support for the organization and develops relationships with member-donors and potential member-donors.)
Haowei Tong, development officer, said: "COVID has yet again exposed the intersectionality of all the issues we work on: Black and Brown people's rights, voting, incarceration, education, etc."
Jenny Trust, development director, said: "COVID has been difficult for everyone, and we're extremely grateful to the Marylanders who continued to support the ACLU through it. While we missed meeting our member-donors in-person, we were fortunate to continue connecting with many people from all over the state virtually to hear what was on their minds and to keep our supporters in the loop about our progress and ways to stay involved in the ACLU community."
Engagement & Mobilization Department
(In our department, we are responsible for on-the-ground organizing and activism.)
Lorena Diaz, regional community organizer, said: "We adapted in so many ways that ultimately brought us closer. We utilized social media and video calling platforms to continue to stay connected and get more folks involved, thereby increasing education and information sharing on our priorities. We were able to reach out and engage folks across the state to provide virtual testimony during session by eliminating certain barriers like transportation, taking time off work, and so on. During our Zoom events, we held space for English and non-English speakers by using interpretation lines simultaneously. We also created advocacy toolkits for folks to read up on our priorities and take action by having them use the templates to send emails/calls/tweet/and write op-eds." 
Human Resources
(We advocate for the staff at ACLU of Maryland and ensure all employees know how to use their benefits and field any concerns anyone has.)
Human Resources at the ACLU of Maryland, said: "The swift and widespread shift to a remote workforce has resulted in the need for creative engagement alternatives in order to maintain teams that feel connected, integrated, and valued. Employees who have been working from home to move the mission of nonprofit organizations forward while also navigating personal demands have realized the importance of work-life balance and flexibility. Organizations that value high employee engagement and satisfaction are working to identifying benefit and policy enhancements to meet the needs of their teams. Community development, human rights, and racial and social justice organizations are strengthening their approach to staff wellness and deepening their commitment to 'internal' equity. Instead of being solely focused on mission impact, they've learned that their teams who continuously engage in traumatic work also need to take care of themselves. Additionally, social impact organizations are reimagining their internal policies, practices, and procedures to improve values alignment."
Legal Department
(We are responsible for litigation and researching/interpreting the laws that impact your rights.)
Gina Elleby, legal advocacy manager, said: "The isolating required to protect lives didn't reduce rights violations against Black and Brown people – especially in detention, where people remained for years too long without juries to safely try their cases. People continued reporting to us rights violations in schools, at home, in newly virtual council and board meetings, and by police. The need for accountability seemed to peak at the exact time the judicial system ground to a near halt. It was overwhelming for me. Yet, within the same period, I reclaimed my professional creativity, adapted and expanded with change, and witnessed Black and Brown communities all over Maryland exercise their power and compassion. As a result, my commitment to systemic reforms is stronger than ever, and I'm curious to see our societal transformation when the fog clears."
Deborah Jeon, legal director, said: "Courts and court proceedings have changed significantly over the course of the pandemic, with many more judges conducting court hearings virtually. This can make the proceedings more accessible to people in some ways, since they can 'attend' from afar, without the burdens of travel or making do with media reports from the proceedings. On the other hand, we sometimes miss the chance to see witnesses and litigants live, or – most of all –  to fill a courtroom with supporters of our courageous clients as they undertake their struggle for justice: there is just no virtual substitute for the empowerment that outpouring of support can bring."
Public Policy
(Our team researches, analyzes, develops, and helps pass equitable laws in Maryland.)
Frank Patinella, senior public policy advocate, said: "I've definitely made a lot of connections and built relationships with folks in the more remote areas of the state. And many of our grassroots partners were able to attend and testify at hearings in Annapolis, and meet with legislators during session on our key priorities. Many of these activities would not have happened if the pandemic didn't hit and we didn't all get accustomed to being on Zoom."
Yanet Amanuel, public policy director, said, "I would add that being virtual has helped connect other community members with each other and build community support overall."